CUSTOM DESIGN
Whether our client is an architect, designer, contractor, or homeowner, our design team will come up with practical solutions for challenging situations. Thorough shop drawings allow us to avoid any issues before the first cut.

FABRICATION
Fabrication is the heart of what we do. While we have the capacity and experience to handle multifaceted, complex projects on large sites, we are also thrilled to take on smaller jobs that challenge and intrigue us.

INSTALLATION
Detailed site measurements and meticulous design allow us to fabricate in the shop and build to fit perfectly on site. This minimizes disruption to a job site or private home, and avoids tying up valuable onsite space.
Name & History
Here at IRONGRAIN we mold metal and wood into objects of timeless beauty and contemporary functionality. Metal's cold, hard strength and wood's warm, inviting durability inspire us. Together, they form the foundation of our craft. Our name pays tribute to these basic elements that we work with every day.
It all started in 2002 when Andrew won a piece of business fabricating custom-designed fence brackets. He bought a welder, snuck into his employer's sawmill on the weekends, and got to work. From those humble beginnings, IRONGRAIN has grown from a weekend endeavor with borrowed space in a sawmill into the mature, fully equipped fabrication shop with a talented and dedicated team of its very own.
The Journey Begins
The projects and clients we work with bring with them their own set of creative impulses and physical requirements. We pride ourselves on our ability to work on a variety of projects, thanks to the versatile way we've set up our shop and business. Even so, the first step of the adventure always begins with an idea, a sketch, or a detailed drawing. If we start with an idea, we can help you through the design process to arrive at a buildable set of drawings. If we start with something more, say sketches or drawings, we can head on over to fabrication a little faster.
Quality Control & Sustainability
Put a group of people who are passionate about building together in a room, and you'll find that quality control comes naturally. Our toughest critics are always ourselves. As a tight-knit team working in a collaborative environment, we find that our second toughest critics are our colleagues.
In the design phase, we think through our eventual fabrication process to ensure we make the best use of materials. Knowledge of the availability and common sizes / lengths for certain types of lumber or metal components allows us to build low-waste solutions directly into the design, or provide suggestions on how to adapt an existing design for more efficient use of materials.
Metal Shop
Our planer tables are the heart of our welding shop. Purchased from a former machine shop, they have been repurposed as our welding tables. For precision welding, there's nothing better. They are dead flat, able to be oriented in many different positions, and allow us to bolt or fit on an array of fixtures to accurately position and clamp weldments.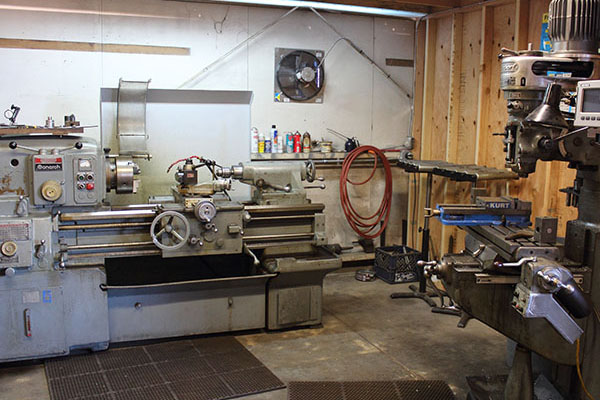 Machine Shop
Our 1960s Monarch Lathe and Bridgeport Mill were like lost puppies destined for the pound before we brought them home. The tool fanatics in us couldn't let them go to the scrap yard. These machines have been lovingly restored to their former glory, infused with modern technology, and are now an integral part of our machine shop.
Wood Shop
Our wood shop tends to be a meditative space. While we have our share of carpentry power tools that cut and whirl and make noise, we have an even larger cache of fine hand tools that chisel and plane without a sound. Because we have relationships with saw mills and dedicated wood shops to process our raw lumber, we can focus our efforts here in our own shop on the most delicate and critical tasks.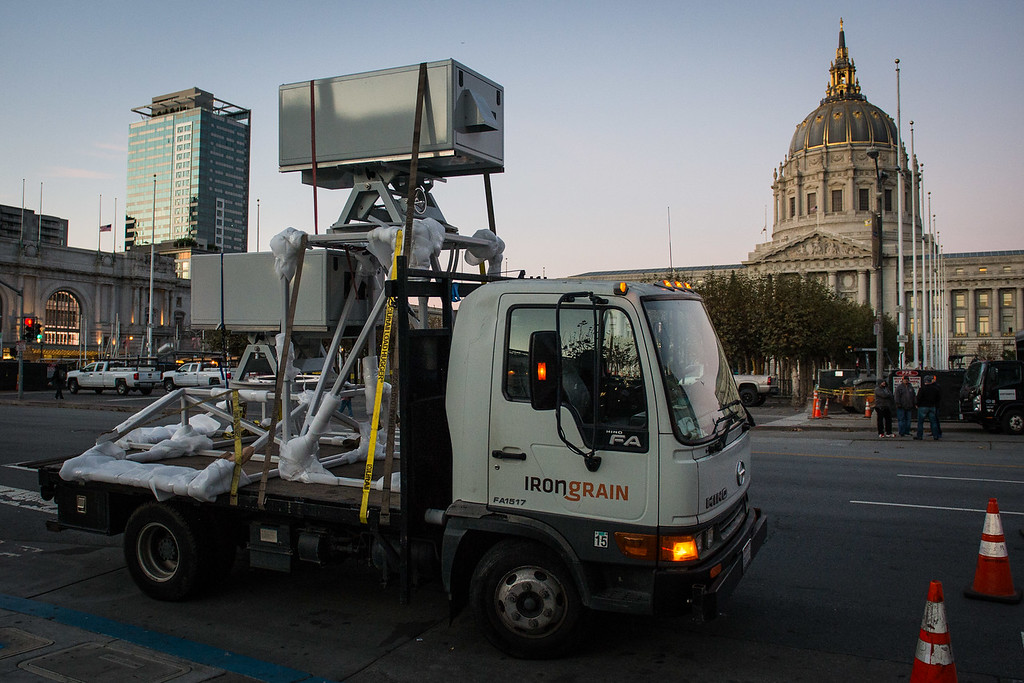 Hino
The Hino is IRONGRAIN's first born child. Originally just the cab and chassis, we then designed and fabricated a custom bed with an integrated, one-ton, remote-operated hydraulic crane. It's our go-to for all big and/or tricky installations. While it isn't huge, it can carry very heavy loads, get into tight spaces, and maneuver big objects into place precisely.